---
Our boys are in their new homes. Denis will live in Mlada Boleslav as single dog and Dustin will live in faraway Italy in a poodle band together with our Angela (puppy from A litter). We prepared the whole week on the way to Italy. We prepared almost summer clothes, camera... You can imagine when we arrived there the weather was so awfull we did not take single photo. Rain mixed with snow followed us from Brenner to Bologna and in the southern parts we could seen the spring flowers and trees however all was covered with rain. So our plans about tooking pictures near Piza and on the seaside we were not able to cover. Maybe newt time!!! (More photos in Puppies photogallery)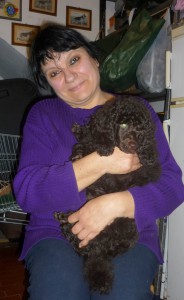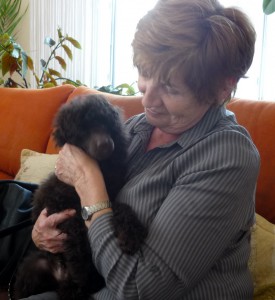 Our boys will leave us soon. It will be sad for us as always as well as for their mum Colette who return to the puppy age and plays with them as she would be puppy as well. Denis is still available and Dustin will go to his new family during one week. We let them play a lot it's last time they will be together! New photos in album "Puppies"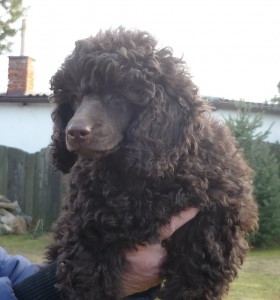 On 21.02.2011 had our boys two months "birthday".
Their priorities are:
a. food
b. bad business
c. running around the flat
Another one is barking, get the ground out from the flower-pot, destroying newspapers, magazines, books and all papers they find. Some times they hear at their names and few times they are also kind for the moment. We train the show stand, combing and sometimes we are successful. Enjoy new photos.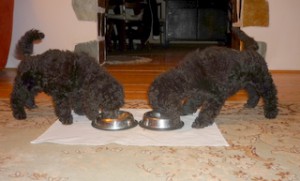 On 12.2.2011 are our puppies another step closer to their own lifes. They were bathed, dryed and perfectly groomed (I would like to thank our friend Jindřiška Paroubková). One moment after they were also examined by club visitor. They are excellent in all cases and so nice that they are able to go to try their first show. However the show stands are a bit problematic just now. They prefere play and run all over the whole flat and make new friends - like our 18 years old cat Matěj. Matěj is cool he has his own experience with their grandmother Lerinka, uncle Kevin and his brother Alex and mother Coletka. More cute photos in the photogallery.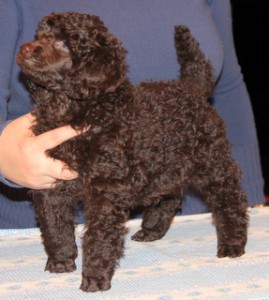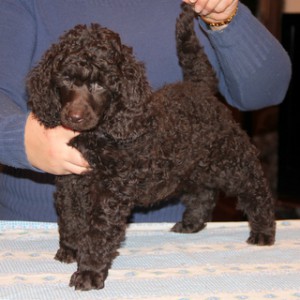 On tuesday 1.2.2011 had our boys 6 weeks. In additin on Wednesday they had first great adventure. They went with the car for the first time and they visited vet. The first was without any troubles and exciting, the second one... The vet was great and did the best to made everything as fast as possible and without pain but the injection first and after while the chip - it was really difficult. It was perfect we took mother coletka with us; the boys had the possibility to tell everything to her. Colette was also vaccinated and we moved fast to the home. We supposed the boys would be clam and tired after so long adventure but the opposite situation was true. :o) So now both boys; Denis and Dustin has their valid papers and waiting to their owners. New photos on photogallery "Puppies".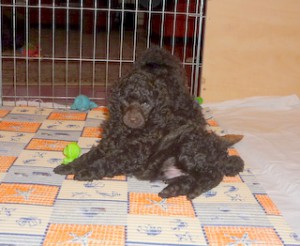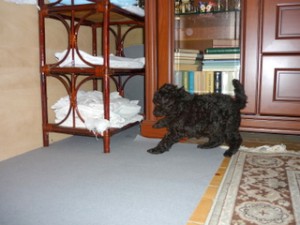 Another week is behind us. Boys needs more space and try their first "long journeys" around the living room. The most interesting things are shoes, the ends of carpets, flowers, everything. After our considerations we will have nice and calm puppies (it looks like from beginning) we find out it's nonsence. One can say boys are a bit lively, they need to be watch out every minute. Another favorite activity is caressing. Who has experience knows what I am talking about - the cute small caressing puppy that is talking with you in their own way - it is fantastic experience... And in these moments exactly one starts to think how fast time is running, puppies are not enough caressed and they would soon go out. So maybe it's time to let one at home?!? In the same time the new potential owners are considered if they would be the best possible for our wonderful puppies. But life's go on and we do our best to caress them and educate them properly!

It's Monday 17.01. 2011 and puppies are one week older. We cannot say more clever, unfortunatelly. Sometimes I have feeling they read the book "Small breeding school" written by Vladima Ticha during the night (they have it nearby) to know what to do, exactly precise. :-) For example; "From puppies babies, puppies start to be more puppies. With the end of their third week it finninsh the most calm time for breeder".
The highest fun for our puppies and also for their mother Colette is during the night. That is the right time for glowrely, barking and small games,... We are not resist. So we pretend for a while we are tired and don't want to wake up from bed but after while, you know... Waking up and watching what is happenning to puppies. Usually when we enter the living room they are sleeping again. :o)
New photos of lovely puppies in their gallery.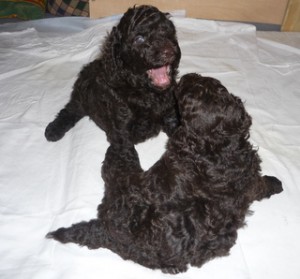 Today is Sunday 10.01.2011 and our sweet boys will be soon three weeks old (adorable how time passes so quick). As the training we gave him first puppy food and both found our it costed less energy than eating from mum and it's almost same taste. Both boys are smart, Colette is fanstastic - she takes care about them all days and all nights and even for every small squeal she give them her milk. So you can imagine weights are also fantastic (two are less then five) - as you can see at the photo. More lovely photos in Puppies D Gallery.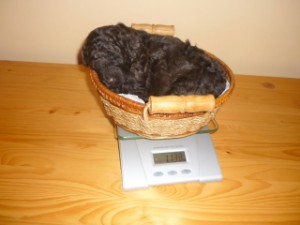 Finally we know the names of our lovely boys - after all considerations and friends advices. The first boy get the name Dustin and the second lovely baby is called Denis . We hope our sweetharts are satisfied with new names. They both are very communicative (after their mum) and they cannot stop talking even if they eat mum's milk or mum takes care about hygienne. They are silence only in their dreams. So we will see how they will be developed!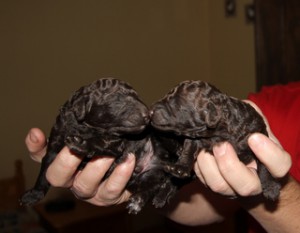 On Monday night, 21.12.2010, two boys were born.
First one was born at 1:00 and he has 300 g. The second one was born at quarter to three and he weights 250 g. Both boys and Colette are all right. During the night Colette become perfect mum who takes care about boys every minute. Here you will find information about their growing. :o)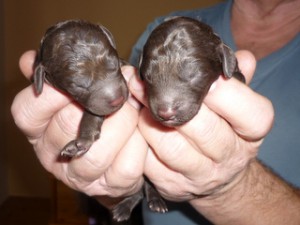 Interested in? Please, contact us .
Father:
miniature Brown male, born: 26.3.2007
breeder: Mila Ristic , Beograd , Serbia
owner : Anita Biro, Hungary
prcd-PRA/normal.clear by parents
patella 0/0
40 cm
Titles :
Interchampion, Hungaria Champion, Slovakian Champion, Luxembourg Champion, fulfilled condition for Czech Champion title
Mother :
miniature brown female, born: 7.12.2007
breeder and owner: Zuzana Faltejsková Šandová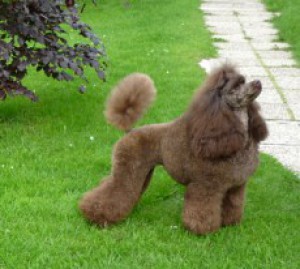 PRA/OPTIGEN / normal/clear
patella 0/0
42 cm
Titles :
fulfilled conditions for Interchampion title, GrandChampion CZ, GrandChampion BL, CH - CZ, PL, HU, RO, BL, Balcan, Junior Champion CZ , Puppy Champion KCHP, Junior Champion KCHP, KCHP Champion, KCHP Champion of Champion, Junior Champion of Pudl clubu, BIG 2, 6x CACIB, 4x Res.CACIB, 3xBOB, 2xBOS, 3x Junior BOB, 2x NV, Best 2 of Puppy class, Best 3 of Puppy class, Best female puppy class, Best 3 of Baby class
If you are interested in, do not hesitate to contact us.