---
Puppies C born 9.12. 2007
3 males, 2 females : Calif, Carlos, Cedrik, Caroline, Colette
Father : Dassin Tulip Garden Dante
Miniature brown male, born : 17.1.2005, CH- USA, NL, LUX

Mother : Happy Hilarete Braunkőnigin

Miniature brown female, born 28.6.2001, CH- CZ, SK, PL, JCH CZ

All photos of puppies you could find in Photoalbum Stenata.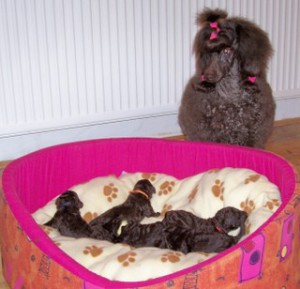 It was nice autumn day 5. 10. 2007 we went together with Lerinka into

Holland, Haag where future father of puppies lives. They call him Dante, his right name is Dassip Tulip Garden Dante. He is handsome male, not even in face but also in his gallantly and friendly nature. Like it is written about poodles in every book. We enjoyed last summer days in Holland Scheveningen with super people near the North Sea. And then we wait how it happens.
Our (well, Lerinka's) third babies were born on Sunday 9. 12. 2007 and it is great news. It is well known the babies born on Sunday are lucky babies. We call them Ccka

familiar, new names are not chosen yet. Lerinka had plenty of time for child birth so in 65

th

day of her pregnancy we took her to veterinary. And the result: 3 boys and 2 girls and their weight between 27 – 34 dkg. Till the beginning puppies just sleep or eat. Lerinka is responsible mum and walk only for the most necessary things and fast back to her children. The other dogs and our cat cannot watch to them. They will see them in a month, probably.
New photos in photo gallery.

Today, 16.12. puppies are one week old. They are growing rapidly and they still sleep, eat, talk with mum, sleep, talking, eating, sleep,… Today we selected new names for our lovely brown balls. The names are funny, royal. We hope they will grow up into them :o) So: boys are Calif, Carlos, Cedrik and girls Carolina and Colette.
Puppies have 7 weeks, they are vaccinated, with extra sound also chipped and the club visit they also survive. They eat from saucers, play, go to toilet and mostly bother us. It is not a while when they don't scrap (maybe during sleeping time), don't eat anything, destroy toys and destroy their puppy home,… Their mother Lerinka doesn't have enough strong to teach them so in case they catch her they eat her almost with her hair. Kevin is curious but in a while when some puppy come to him he jump to something. Alex is desperate and feels alone – everyone is interesting in puppies and no-one has time for him. He finds his place and quietly feels desperate. The most clever is our cat Matej, he sleeps all the time outside or on heating and when the horrible times come he leave us and goes into cellar. So we are really happy they will lave us. 
We are sorry we did not update puppies' web. Unfortunately we are very busy.
Our sweethearts start to leave us. Carolina and Cedrik (Cipisek at home) leave us on Saturday 9.2. For us is full of tears but they will have new families and children among them. We wish them a lot of luck and love!!!
Today is Sunday 17.2. 2008 and all our puppies have new homes. We will remember them and believe they will live in similar manner as in our home and their new owner will informed us and send us photos. Photos will be published at our web so everyone could see their growing up period. So, our children, we cross up our fingers into yours future life!!!!!!!!!!

It is 21.2. 23:42 and our honey Coletka is still awake. The other dog members of our family sleep she goes for investigation. Like hyperactive children. The all dog materials I have at home say :"puppy sleep major part of the day" (truly there is no word about the night). I would like to have one of these or is our Colette the exception? In case Coletka doesn't sleep she demands eat. She wants to eat together with our cat Matej. Matej like a nice teacher shows her how to climb in trees. Coletka clean all other dog's saucers and every time she wants to eat. I even can't imagine how I will take her for any dog show in future; show stand? Running nicely in ring?! We will be very satisfied when she starts going on leach. Our first attempt looked like Coletka made hedgehog and if could be possible she pierced me with her eyes. I tried it like it is written in books – nice words,… Nothing. So I try it differently and went myself comfortable with Coletka protesting on leach. AND… on the way back to home she moves nicely on leach. Unfortunately, I am the bad one – my neighborhoods saw us. And in mean time when I write this small article she sleeps! Hourah and I will go as well.

New owner of puppies send us news. All are satisfied, most of them have new dog and child friend so they don't miss us or mum. Photos will be published in Photo album, section "Pribuzni a pratele" so you could watch how they are growing!