---
Litter E
We wish all our sweeties Elias, Endíček, Eyminka and Elisca nice and happy new life in their new homes.

On Saturday 23.6. left us our last cute boy Elias. It was sad saying good bye and our girl Karmen became nice and calm. The whole house is now in piece - rush plays ended...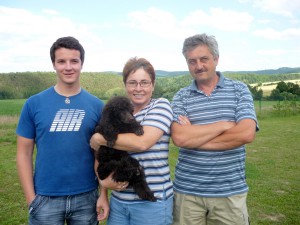 After a bit longer pause there are new stories and photos. At home remains Elias only who has his "sister" Karmen (one moth older) and they have really great time together, they are running, wrestling, tearing everything they can find plus we need to add growling, barking and fighting. To they are really amazing couple who starts at half past five in the morning abd ends at nine in the evening. Our sweethards

Today, 26.5., celebrate our puppies two months and into new home, to Prague, is going little Elysia. She found out exceptionally great new owner (see picture bellow) so even if we are sad she is leaving us we know for sure she would be into good hands. We wish Liza happy and non stress life in her new home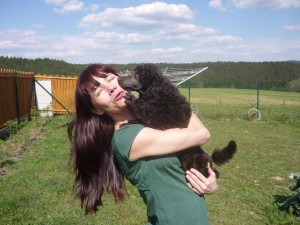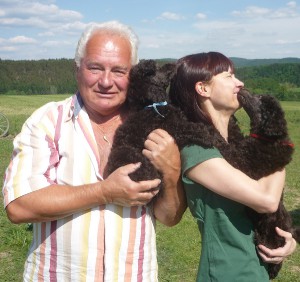 Our two remaining sweethards who are now at home have 8 weeks now. Well, they are really temperament, they fight, destroy and behave like barbarians (we just looove them). We are unable to photo them. In the moment we take camera appears huge fun, fight or something else and they run fastly in the garden. Those kind of fun we have since really early morning till the late evening. Our new family member Karmen adapts on thier plays fastly. Karmen is coming from kennel Neraka from Mrs. Hudcova.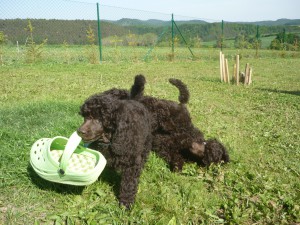 Day "D" is here and Eymi and Endy are going to new homes - we wish them lots of luck and love from the new owners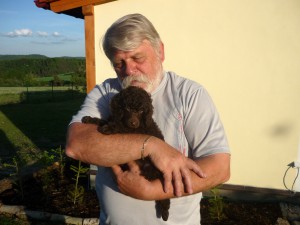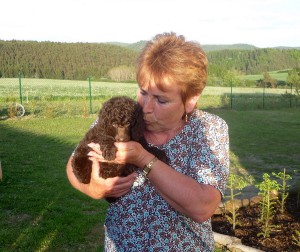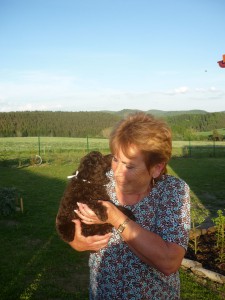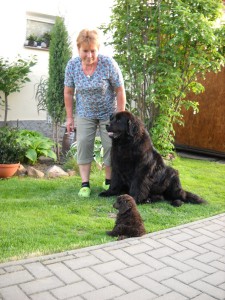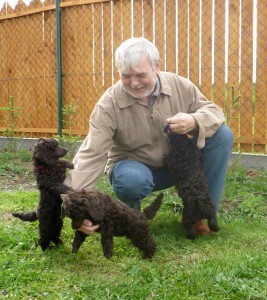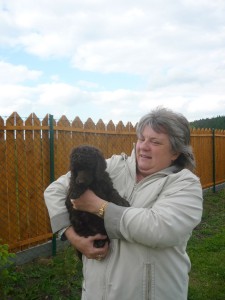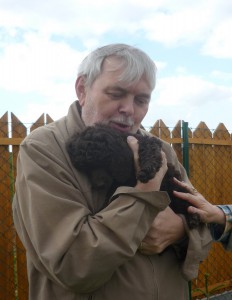 Another week s behind us and our beloved puppies are 6 weeks old. They had the first meeting with the vet - chipping and vaccination was without any problems. They also pased the oblogatory club visit that Mr. Klirova made. They are bigger and bigger every day and playing with Colette who is fantastic mother and tolerate them all rush games they are doing. When I see it I always think a lot of human mothers might be teached from the dogs. Future owners are really looking forward to new family members but we are sad from the think to say them good bye.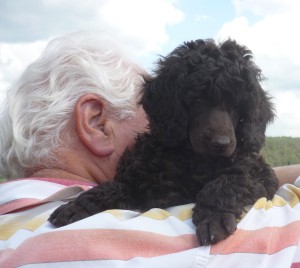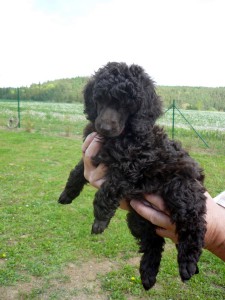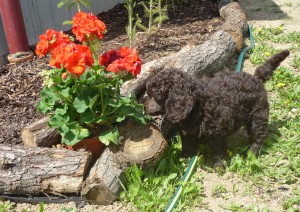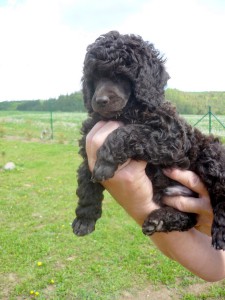 Time is passing and today is Sunday 29.4. and our sweethards are 5 weeks old. They started to managed how to eat from bowls, some of them are faster some of them is slower and of coure they started to discover our garden. So in the meantime when they are not sleeping they are making disaster in our home, running like desperate and are carrying all stuffs they are able to find. New toys we bought to them are not interesting to them any more. Lexíček together with Kevin try to escape from them as usual and are finding all elevated places where the small ones are not able to catch them. Coletka is not sleeping with them any more. She is prefering to have calm sleeping in my bed. But during the night she is coming to them to be sure they are there still. She is giving to babies let know she is still there and of course she is doing it with barking so we all are awaken. And puppies answer her in the same manner and of coure they want the milk.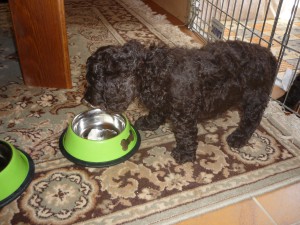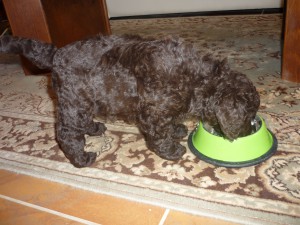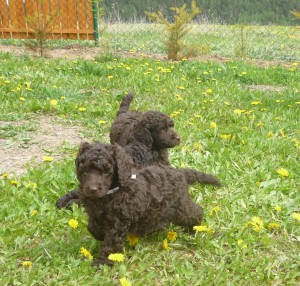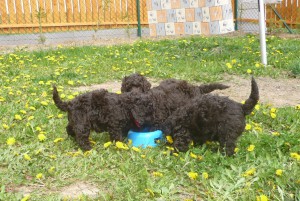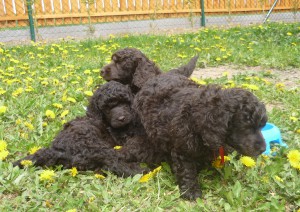 Today is Sunday 22nd of April and our puppies are 4 weeks old. The start to become babies with true interest about the world around. The are still chewing something (the most favorite is theirselfs) and making all possible sounds. To mother they behave like she has the only function - to give them milk. On the other side she behaves like the best possible mother and loves them so much she just lets is be.

She is the nicest mother ever, we can write it with capital "M"

Todays target to make pics of puppies failed. If they are feeded immediatelly going to sleep so there is no way how to photograph them. And if they are hungry there is no way how to make a pictures because more than puppies they reminds pack of singing noses. Maybe next time, they will be older and have more sence for photographing!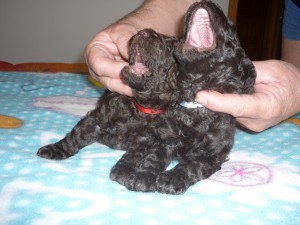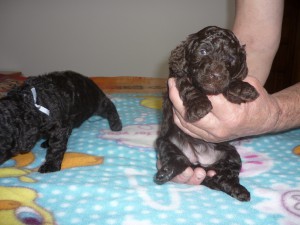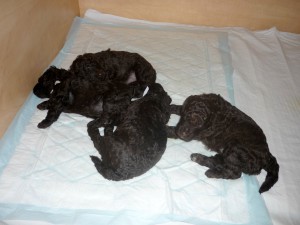 Puppies have their names. The future owners select those for them, girls are Elysia and Eymi, and one male is Endy. For the last one we selected the name, he is not reserved for the moment. He is called Elias. Puppies are sweet and Coletka really takes care about them properly. She even has no time for eating and all other things. So every moment apart of puppies are like a small contest - she does what she needs to do and quickly back to the puppies!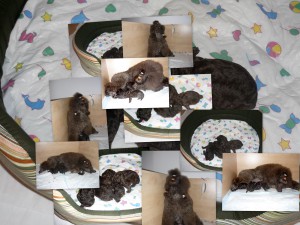 On Monday 26.3.2012 were born 4 puppies. 2 boys and 2 girls.
First little lady came at 1,15 h, weight 280g, and shortly after, at 1,45 h second girl came with the birth weight 265g. Then there were little pause and then Coletka gave us first boy at 3,45 h, weight 300g, and soonly the last one, the smallest boy was born at 4h, with the weight 260g. All of them are all right, including mum Coletka of course and the all are dealing with sleeping or eating. And they are really communicative even in this really baby age. So we all are really exciting how they all will be develope and how they will look. Time will show to us!!!
Father:
miniature Brown male, born: 26.3.2007
breeder: Mila Ristic , Beograd , Serbia

owner: Anita Biro, Hungary

prcd-PRA/normal.clear by parents
patella 0/0
41 cm
Titles:

Hungaria Champion, Slovakian Champion, Luxembourg Champion, Junior Champion of Luxembourg, fulfilled all conditions from Czech Champion
Mother: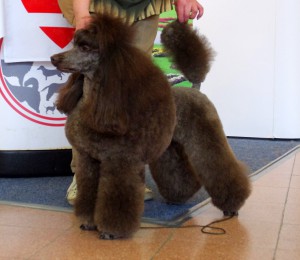 miniature brown female
born: 7.12.2007
breeder and owner:
Zuzana Faltejsková Šandová

PRA/OPTIGEN / normal/clear
patella 0/0
42 cm
Titles:
MultiChampion, Interchampion, GrandChampion CZ, GrandChampion BL, Champion - CZ, PL, HU, RO, SER, BL,A, Balcan, Junior ChampionCZ, KCHP Puppy Champion, KCHP Junior Champion, KCHP Champion, KCHP Champion of Champions, KCHP Honor Champion, Junior Champion of Poodle Club, Champion of Poodle Club, BIG 2, 6x CACIB, 4x Res.CACIB, 5xBOB, 2xBOS, 3x Junior BOB, 2x NV, Best 2 of Puppy class, Best 3 of Puppy class, Best female puppy class, Best 3 of Baby class
Couple of photos from a wedding trip from Hungary.
( more detailed info in 14 days ! )
healt walk in park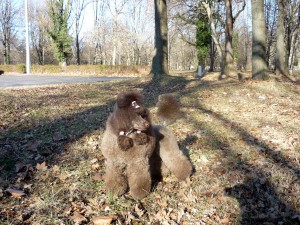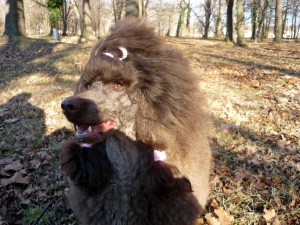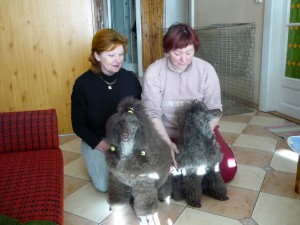 Future couple
Sightseeing